2018.08.21 Gunslinger – przynęta inna niż wszystkie!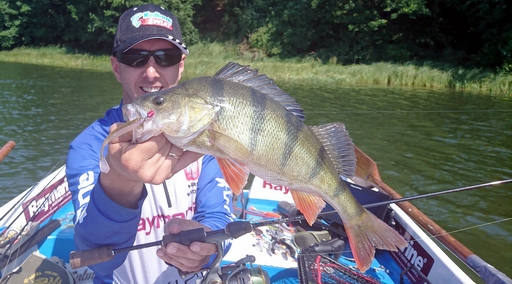 Gunslinger – przynęta inna niż wszystkie! Chciałem Was dzisiaj zaprosić na opowiadanie o pewnej przynęcie. Przynęcie, która mocno namieszała w moim okoniowym pudle i bardzo szybko stała się w nim numerem 1. Mowa tutaj o Gunslingerze w rozmiarze 10,5cm, przynęcie bardzo oryginalnej w swoim kształcie i pracy.
Guma występuje w kilku wariantach kolorystycznych, a moim faworytem jest kolor o oznaczeniu katalogowym 004. Charakteryzuje się ona smukłą budową przypominającą małą rybkę i bardzo miękkim, a jednocześnie trwałym silikonem. Na końcu posiada dość znaczną płetwę przypominającą ogon bobra. To ona powoduje, że przynęta jest nietuzinkowa i oryginalna oraz nadaje jej niepowtarzalny ruch w wodzie, który potrafi kusić naprawdę duże okonie. Bo właśnie z myślą o tych rybach jej używam. Tak naprawdę spotkaliśmy się dopiero w tym roku latem i na testy jesienne oraz wiosenne przyjdzie jeszcze czas.
Skoro mowa o letnim łowieniu to muszą to być okonie, które tak uwielbiam łowić w tym okresie i na które z utęsknieniem czekam. Jeżeli letnie pasiaki, to oczywiście łowienie w toni. I tutaj swoją główną rolę odgrywa wcześniej wspomniany Gunslinger. Uzbrojony w lekką główkę w granicach 3 gram, na niewielkim haku o nr 1 potrafi zdziałać cuda! Przynęta prowadzona lekkimi szarpnięciami do złudzenia przypomina uciekającą w panice małą rybkę. Jej ruch jest bardzo naturalny i płynny co doceniają duże pasiaki i potrafią w nią walić bez opamiętania. Możemy ją zaprezentować w różnych warstwach wody, pamiętajmy tylko, że przynęta nie posiada pracy własnej i to my musimy nadać jej ten właściwy ruch. Zresztą bardzo dobrze na niego reaguje i każde nasze nawet niewielkie szarpnięcie wprawia ją w drżenie i falowanie.
Ta przynęta po prostu ma coś w sobie, to na nią na moich ostatnich wyprawach złowiłem największe okonie. Potrafiła także otworzyć z pozoru bezrybną wodę. Opętała mnie do tego stopnia, że zawsze leży pod ręką w gotowości do założenia. Gdy tylko czuję, że podeszły pasiaki to od razu ląduje na końcu mojego zestawu. Mam wtedy pewność, że te największe ze stada zostaną przechytrzone i będzie mi dane się z nimi spotkać. Już na pierwszej wyprawie zauważyłem, że działa selektywnie kusząc swoim ruchem te największe ryby ze stada.
Ale ten mały Gunslinger to nie tylko toń, ta przynęta ma jeszcze wiele innych zastosowań. Jestem przekonany, że podana jesienią na cięższej główce i prowadzona krótkimi skokami nad dnem niczym kogut będzie równie skutecznie kusiła okonie. Może być także rewelacyjną przynętą do metody dropshotowej, do której wydaje mi się została tak naprawdę stworzona. Póki co śmigam na letnie pasiaki w toni spotkać się z tym z piątką z przodu, czego i Wam serdecznie życzę.
Marcin Kotowski