2018.12.14 "Na miękko" z Robinsonem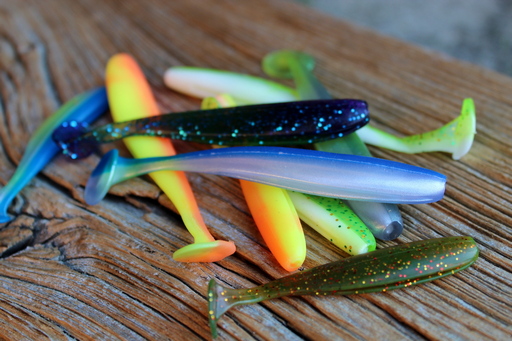 Dobór odpowiedniej przynęty do warunków panujących w łowisku i do aktualnego "widzimisię" ryb jest kluczem do wędkarskiego sukcesu. Dlatego tak ważne jest to, by w naszym pudełku znajdował się możliwie najbogatszy wachlarz gum, zarówno jeżeli chodzi o kształty jak i kolorystykę. Przez większą część sezonu używałem trzech rodzajów miękkich przynęt od Robinsona i muszę przyznać, że to trio jest naprawdę skuteczne.
 Slipper
Muszę przyznać, że w stosunku do tej przynęty byłem najbardziej sceptyczny. Bardzo cienki wrzecionowaty korpus, delikatny ogonek i wycięcia na grzbiecie i brzuchu jakoś nie do końca do mnie przemawiały. In plus za tą przynętą przemawiały za to kolory – dużo wariantów w najpopularniejszych barwach plus kilka dwukolorowych hybryd dawało wielkie pole manewru z trafieniem w kolorystyczne gusta ryb. Przynęta ta jest dedykowana pod zbrojenie hakiem offsetowym, ale spokojnie można ją założyć na zwykłego jigga. Mój nieco nieufny stosunek do Slippera zmienił się bardzo szybko po pierwszych wiosennych wypadach nad wodę. Bardzo chętnie uderzały w tę gumę okonie, których w tym sezonie złowiłem więcej, niż przez całe życie. Większe modele zawzięcie atakowały szczupaki i sandacze, więc szybko Slipper stał się moją przynętą nr 1 tego sezonu. Jego tajemnica tkwi w barwach i pracy, Przy wolnym prowadzeniu intensywnie pracuje tylko płetwa. Gdy korbką kołowrotka zakręcimy nieco szybciej, w ruch wprawia się cała przynęta, kolebiąc się na boki.
 Goffer
Goffer to bardzo ciekawy i niepowtarzalny ripper. Uwagę zwraca jego dolna część, gdzie nie ma pełnej gumy, a pojedyncze żeberka. Ich namiastkę znajdziemy też na grzbiecie przynęty. Oczywiście nie jest to tylko zabieg stylistyczny producenta, ale przede wszystkim celowe działanie, które ma na celu dodatkowe wabienie ryb. W jaki sposób? Otóż wspomniane żeberka wachlują i drgają w wodzie wytwarzając dodatkowe wibracje, które prowokują nawet ospałe lub nieaktywne ryby do brania. Goffer występuje w jednej wielkości – 8 cm i kilku wariantach kolorystycznych. Szczególnie dobrze przynęta sprawdzała mi się wiosną na płytkiej i zarośniętej wodzie prowadzona na lekkiej główce tuż pod powierzchnią.
 Lancer
To jedna z najciekawszych przynęt, które do tej pory trafiły w moje ręce. Wyglądem przypomina klasyczną "jaskółkę", choć z powodzeniem można ją stosować nie tylko w metodzie drop-shot, czy na bocznym troku, ale i w klasycznym opadzie. Lancer ma 13 cm długości i tylko trzy kolory, za to chyba najbardziej cenione przez łowców sandaczy, czyli seledynowo-zielony, naturalny – gdzie mamy połączenie czerni ze srebrnym i błękitem oraz czarny w duecie z herbatą i czerwonym akcentem. Guma uzbrojona w hak offsetowy z czeburaszką bardzo ładnie pracuje w zwykłym opadzie, gdzie jej wydłużony kształt faluje za obciążeniem. Lancer jak mało która "jaskółka" wykazuje się też pracą na boki. Prowadzona w szybszym tempie zachowuje się w wodzie podobnie do małego węża. Jednak w mojej ocenie jej głównym targetem są sandacze. Jej niespotykany kształt i praca mogą być przysłowiowym języczkiem u wagi, który w walce z "mętnookimi"przeważy szalę zwycięstwa na naszą stronę.